NSK Air Turbine Pana-Max PLUS
Made in Japan
Pana-Max PLUS (Quattro Spray)
- Stainless Steel Body
- Ceramic Bearings
- Clean Head System
- Push Button Chuck
Miniature Head (PAP-MU)
Speed : 380,000-450,000 min-1, Head Size : ø10.6 x H 12.4 mm
(Both standard and short shank burs are applicable)
Standard Head (PAP-SU)
Speed : 340,000-410,000 min-1, Head Size : ø12.1 x H 13.3 mm
Now Only
MYR 1,147.50
Regular Price
MYR 1,350.00
The Pana-Max PLUS series of high speed handpieces has been enhanced to meet expectations in modern dental surgeries. Precision engineered to offer the power and reliability required to perform clinical procedures. The new Pana-Max PLUS turbine cartridge delivers increased smoothness, while the bur retention system has been engineered to securely retain the bur under increased torque loads. The stainless steel body is comfortable in the hand and is angulated at the optimum degree for excellent direct visibility of the operating site, without compromise.
Slim design stainless steel body
The slim line body design is comfortable in all hand sizes and allows excellent dexterity for application in all regions of the oral cavity. Visibility direct to the work site is excellent allowing a high level of efficiency.
Quattro Water Spray and Cellular Glass Optics
The NSK Quattro Water Spray effectively cools the entire surface of the bur with a highly cooling effect, leaving no areas untreated while the Cellular Glass Optic rod delivers light exactly where it is needed.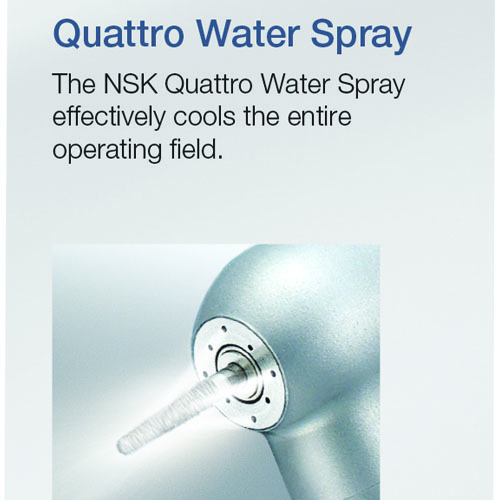 Clean Head System
The patented NSK Clean Head System is a special mechanism designed to automatically prevent the entry of oral fluids and other contaminants into the handpiece head prolonging the life of the bearings.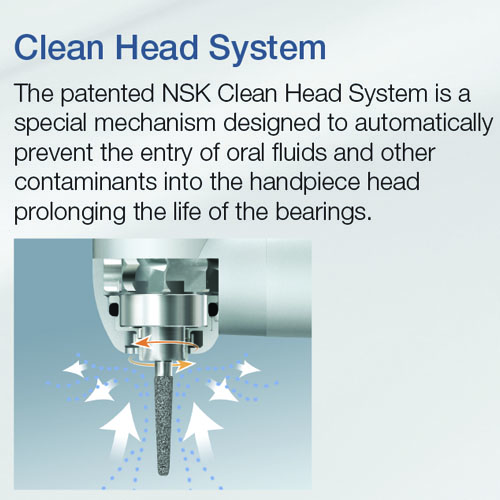 NSK Ceramic Bearing
Ceramic Bearing are 25% harder than conventional steel bearing but are only half the weight. Bacause frictional wear between the ball bearings and the bearing retainer is significantly reduced the efficiency and durability is significantly increased.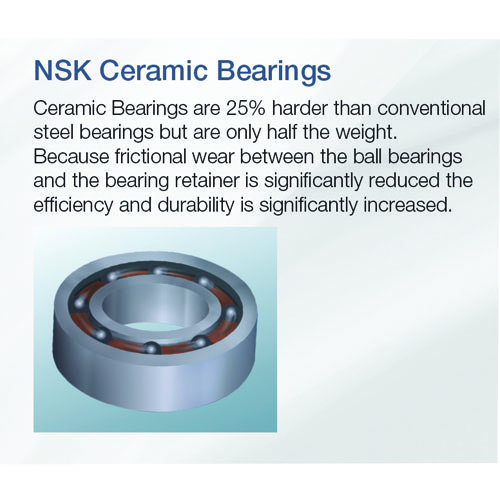 Made in Japan