NSK Air Turbine Ti-Max X450
Made in Japan
- Titanium Body with Scratch Resistant DURACOAT
- 45˚ Angle Head
- Cellular Glass Optics
- Ceramic Bearings
- Clean Head System
- Push Button Chuck
- Triple Water Jet
- For FG extra-long burs (25 mm) only
- Washable in the thermodisinfector
- Autoclavable up to 135ºC
OPTIC 
(Speed: 380,000~450,000 min-1. Head Size: Ø11.2 x H13.5 mm)
* NSK Connection - Power: 21W. 
* KaVo Connection - Power: 18W. 
* Sirona Connection - Power: 18W. 
* W&H Roto Connection - Power: 18W.  
* Bien Air Connection - Power: 18W.
NON- OPTIC
(Speed: 380,000~450,000 min-1. Head Size: Ø11.2 x H13.5 mm)
* NSK Connection - Power: 21W. 
* QD Connection - Power: 18W. 
Unique 45-degree Angled Head Provides Incredible Accessibility
The slim-form Ti-Max X450 series possesses a unique 45-degree angled head specially designed to access hard-to-reach areas for sectioning and extraction of third molars and other impacted teeth. The X450's robust 21 watts of cutting power and effective cooling system - featuring triple water jets - ensure safe and effective treatment during a variety of surgical procedures.
Superior Accessibility
The 45-degree angled head offers excellent accessibility and visibility during root separation procedures and the removal of hard tissue covering impacted third molars.
A Potent 21 W of Cutting Power
NSK's original twin-nozzle head fully transmits the power of the air turbine to the X450's rotor, generating the high torque needed for powerful, consistent cutting.
Triple Water Jets & Cellular Glass Optics
NSK's Triple Water Jet system efficiently bathes the bur at all operating speeds, providing maximum cooling.
Titanium Body
Titanium body*. Light and very strong pure titanium is used for the body. The light handpiece reduces the burden on the hands during operations, and its enhanced hardness also improves its ability for autoclave sterilization. The biocompatible properties of titanium eliminate concern over allergies to metals.
*Titanium is used only for the exterior parts, and not for the interior.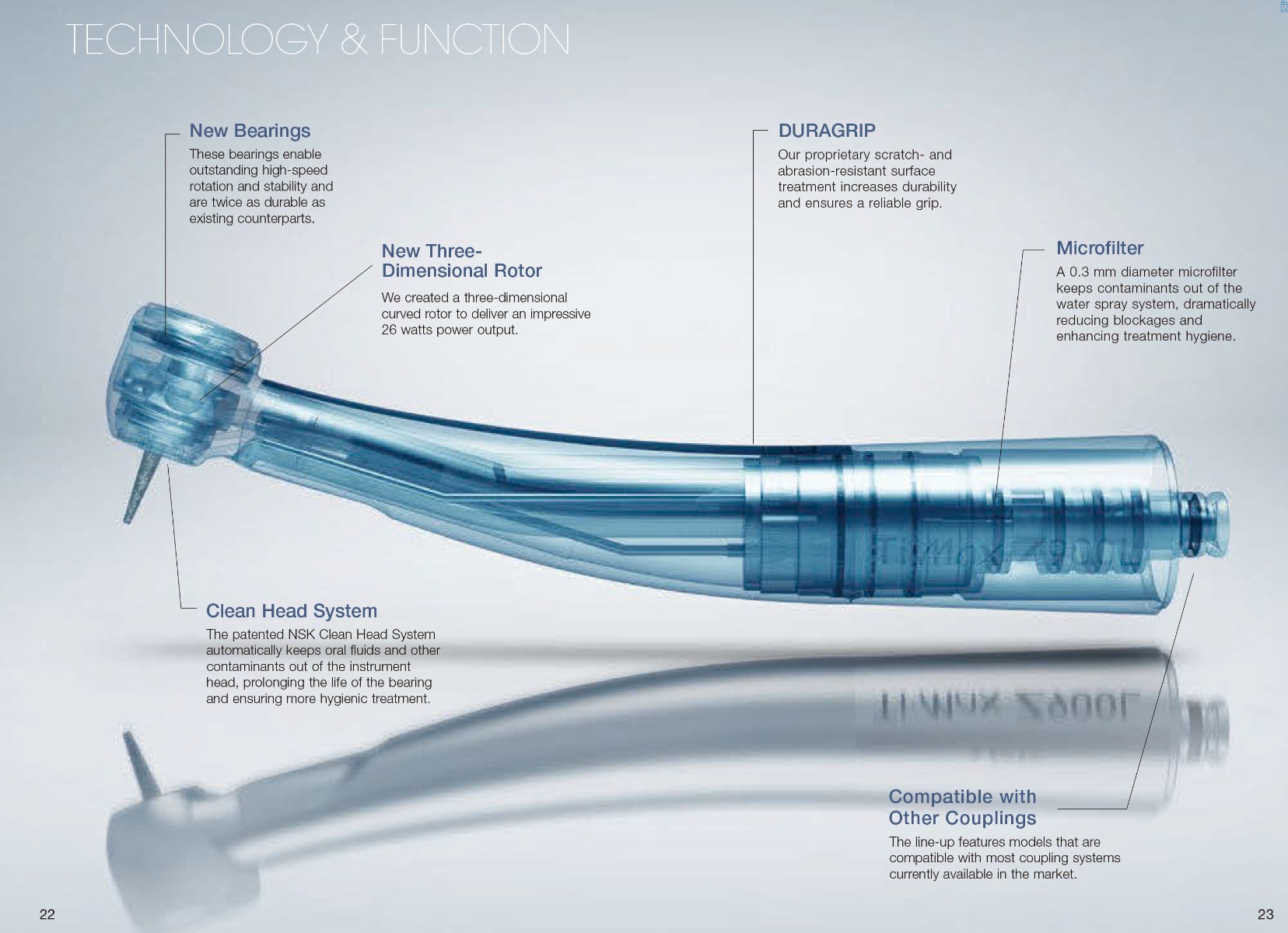 DURACOAT
NSK's latest surface enhancement technology, takes advantage of the non allergic and biocompatible properties of titanium to further improve durability. DURACOAT creates a smooth, scratch resistant surface which is comfortable to hold.
The Ti-Max X450 Permits Optimal Access to Molars and a Diverse Range of Operative Procedures.
Made in Japan