Made in Japan
FX15 4:1 Reduction (Non Optic)
(General Applications Handpiece)
External Water Spray
- For CA burs (ø2.35)
- Push Button Chuck
- Stainless Steel Body
- Clean Head System
- Ball Bearing
- Max Speed: 10,000 min-1
- Washable in the thermodisinfector
- Autoclavable up to 135ºC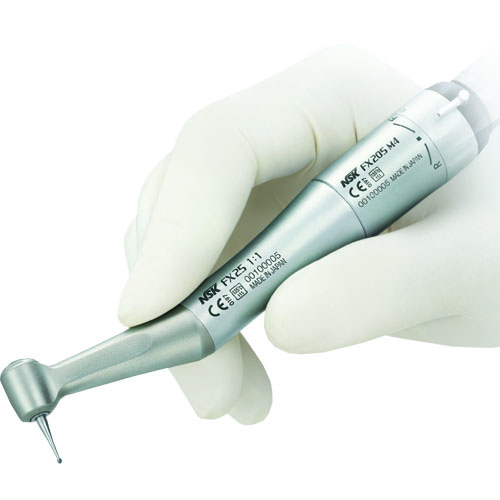 Integrated Handpieces : Ergonomic : Functional : Reliable
NSK FX handpiece series – a modernization of the EX series. The traditional NSK simple design technology, functional reliability, durability, and cost effective pricing still remains, but FX has been updated to an integrated design in response to modern demands.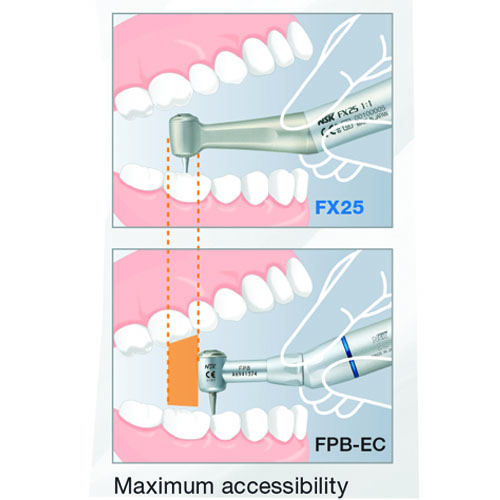 Improved Visibility : Ideal Balance
The extra slim head and body design greatly improves direct and indirect visibility to the oral operational field. This includes increased visibility of even difficult access areas in the oral cavity.
The slim, lighter weight design delivers an entirely comfortable ergonomic balance, especially when used in conjunction with the new NSK FX Mini Air motor.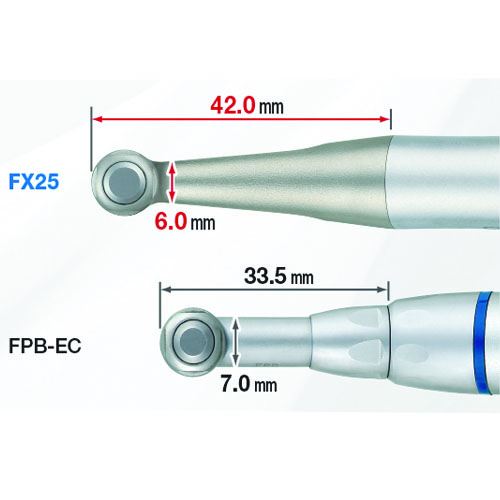 Clean Head System
The patented NSK Clean Head System is a special mechanism designed to automatically prevent the entry of oral fluids and other contaminants into the handpiece head prolonging the life of the bearings. 
High Precision Gears
The high-precision gears run quiet and are supremely durable, which also reduces uncomfortable vibration.

Push Button Chuck
Push Button Chuck is NSk's original push button auto-chuck mechanism that tensions the bur grip during rotation. It allows one-touch bur insertion and removal without tools. The bur lock mechanism is designed so that bur retention strength increases when high loads are applied to the bur.

Easy Cartridge Replacement 


Made in Japan