Made in Japan
Miniature Head (M500LG)
(Speed: 380,000-450,000 min-1, Head Size : ø10.6 x H 12.4 mm, 25,000 LUX)
(Both standard and short shank burs are applicable)
* M4 Direct : Power: 15 W 
* QD Coupling : Power: 13 W 
Standard Head (M600LG)
(Speed: 330,000-430,000 min-1, Head Size : ø12.1 x H 13.3 mm, 25,000 LUX)
* M4 Direct : Power: 16 W
* QD Coupling : Power: 14 W
Made in Japan
*Quattro Spray
- Stainless Steel Body and Cellular Glass Optic
- Ceramic Bearings
- Clean Head System
- Push Button Chuck
- Washable in the thermodisinfector and Autoclavable up to 135ºC
Self-generating LED Illumination
NSK DynaLED turbine handpieces take advantage of NSK micro precision engineering, resulting in high performance and long term reliability. These innovative turbines include a dynamic integrated mini power generator which delivers long life, daylight quality LED illumination when connected to any standard non optic air tubing. Clinicians can instantly gain the advantage of LED illumination on their existing or new dental equipment, simply for the cost of the Turbine. NSK has chosen stainless steel for DynaLED turbines to give high priority for durable, stable and long term function.
NSK long life micro power generator - high efficiency and long term durability
- NSK had applied the very latest technologies and materials to achieve long term efficiency and reliability.
- Micro power generator is electronically calculated to produce the correct power source for highly effective LED illumination.
- The performance of the handpiece is not influenced by the micro power generator.
DynaLED - A perfectly balanced turbine handpiece
Even with the integrated power generator, NSK DynaLED is a perfectly balanced, high performance turbine handpiece. Clinicians will notice no weight nor balance difference when compared to a conventional turbine handpiece.
LED Durability
The LED light source is significantly more durable than quartz, replicaing dayligh illumination quality.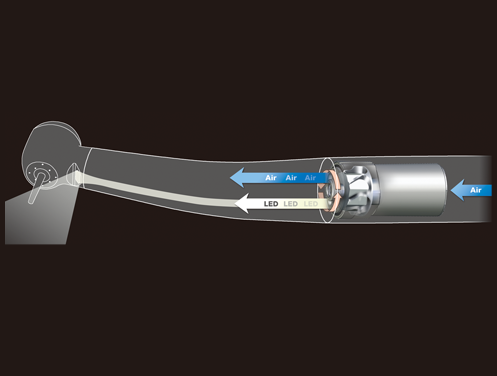 We found other products you might like!