Made in Japan
iPex II Complete Set
- Power Supply : For 1.5 V AAA (LR03 or R03) batteries
- Continuous use : Approx. 60 hours
- Weight : 76 g (unit without batteries)
- Dimensions : W 60 x D 60 x H 86 mm
Contents:
1. Control unit iPex Probe (1.8m)
2. iPex File Clip (3 pcs.)
3. Lip Hook (3 pcs.)
4. AAA manganese dry cell battery (3 pcs.)
5. iPex Tester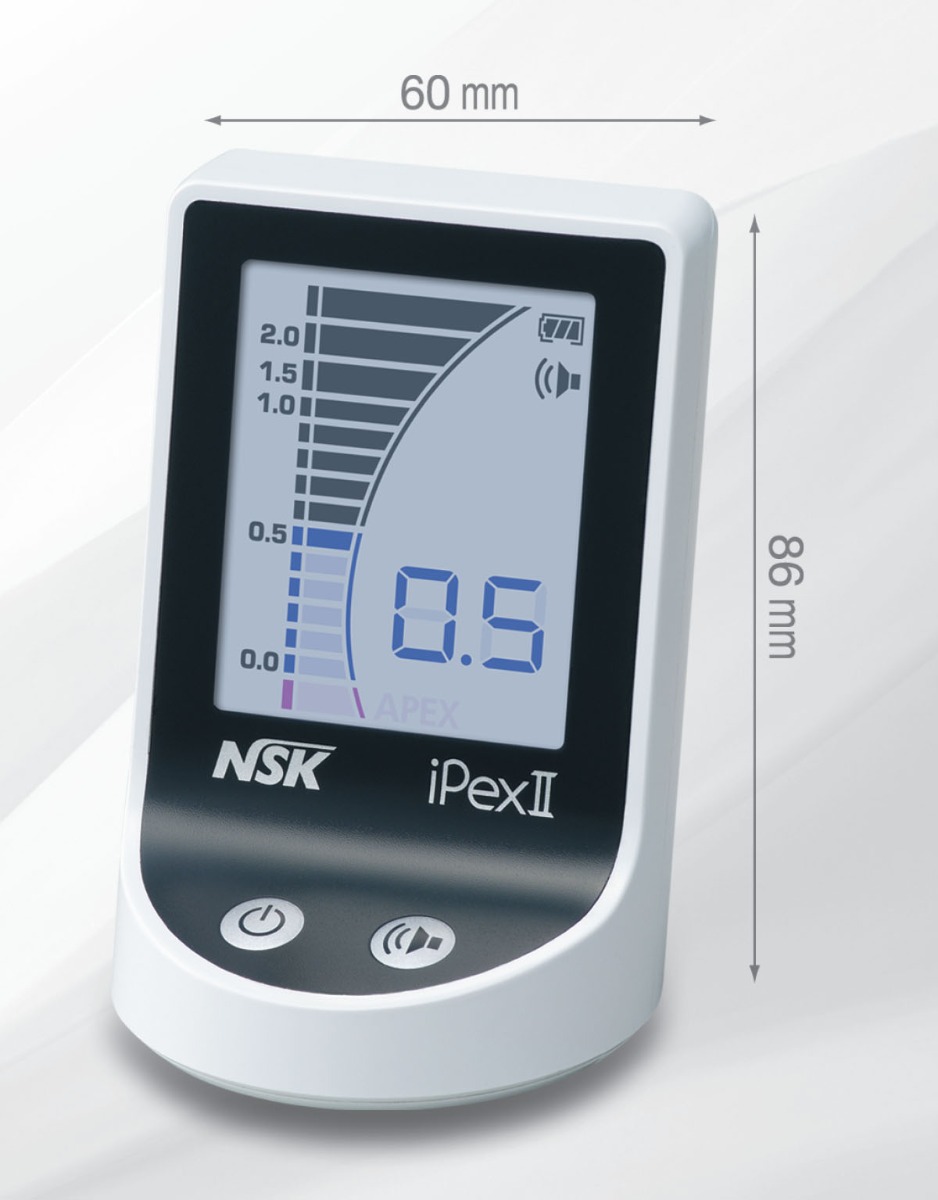 Using the results of numerous clinical trials and verification tests as a base, NSK created SmartLogic, a next-generation Apex Locator compatible with diverse tooth forms, and that provides superior accuracy in detecting the root apex. At the biologically crucial root apex - the Zone of Precision - the iPexII is able to provide a clear, accurate image of the file tip's location on its LCD panel.
Features :
* High-precision root canal measurement generated by using SmartLogic
iPex SmartLogic alternates between two separate frequencies to take measurements. By reducing the noise that interferes with signal analysis, it generates a high-precision wave system that does not require a filtering circuit.
iPex SmartLogic uses the whole wave system to analyse the extracted frequency. This produces steady measurement analysis even under varying conditions in the root canal while retaining a constant link to file insertion progress.

* Auto-detects the apex accurately in any conditions, dry or wet
* A stylish and compact body requiring only a small space
Lightweight and with a base just 6 cm in diameter, the iPex can quickly be set up and used in virtually any environment. The LCD panel is pitched at the ideal angle that allows clinicians to easily and without distraction monitor conditions ensuring safe and smooth root canal procedures.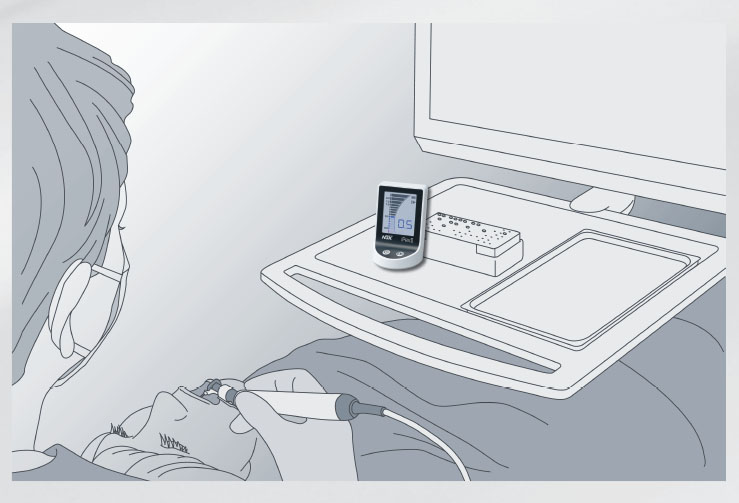 * Three different alert sounds depending on the location of the file tip, ensuring precise procedures
* Energy saving and low operation cost
* A three-colour LCD panel with very low reflectivity, allowing clinicians to accurately and instantly monitor procedure progress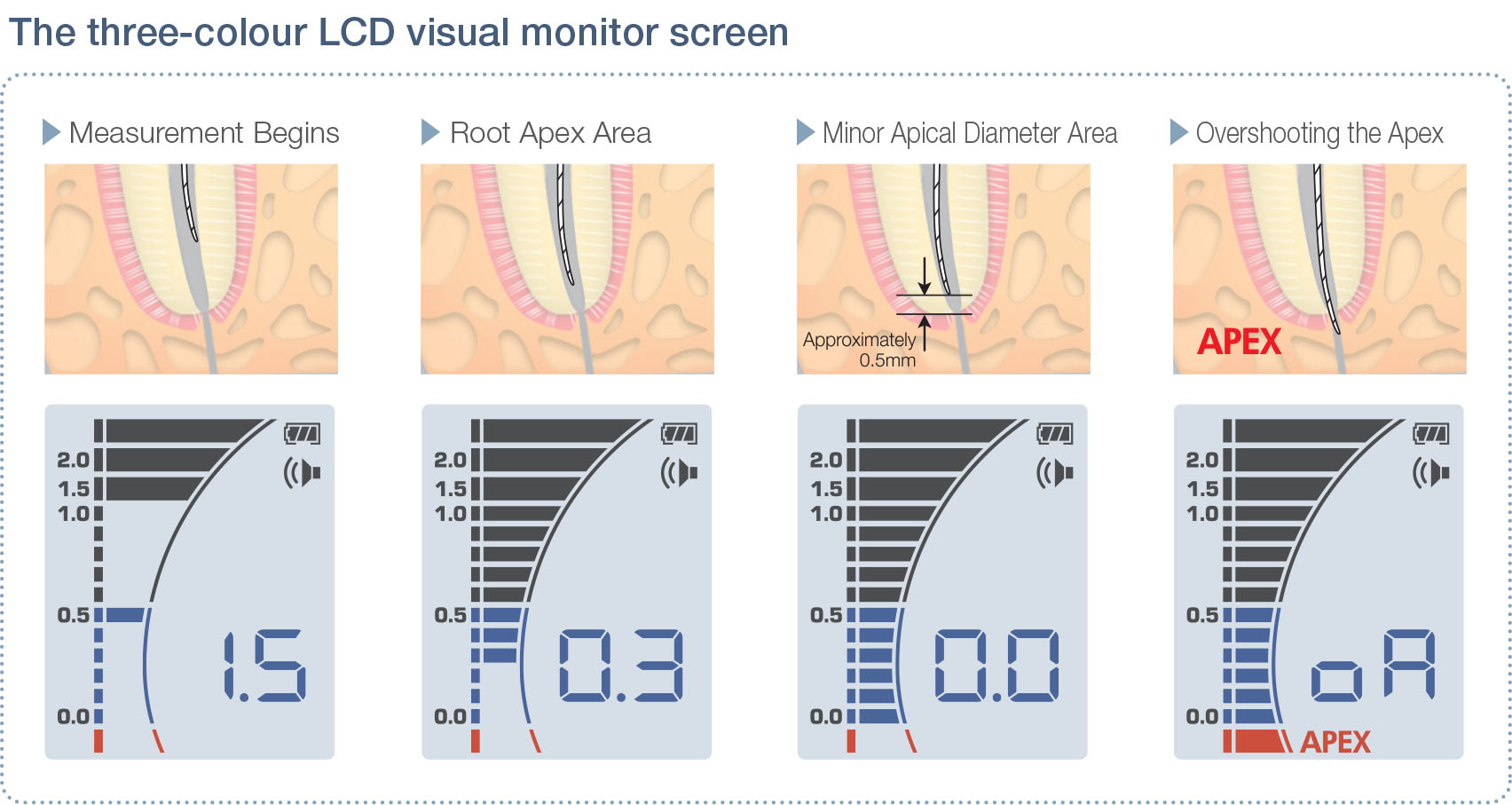 Made in Japan